To find a retailer near you, click here.
If you would like to carry these silhouettes in your shop, contact us for order and price information. A Sachsen Imports exclusive!
NOTE: Unfortunately, because of the impact of the COVID-19 pandemic on suppliers in Germany, our manufacturer will be unable to handcraft any silhouettes in 2022 for the North American market. We apologize for any inconvenience, and hope to be able to offer them in 2023.
Handmade in Germany! These silhouettes have a smart and clean design using high quality materials and the best German craftsmanship. On a semicircular solid wood plate (beech, maple, oak, or walnut) are slots where the laser-cut brushed stainless steel figures can be placed. The figures can be set in different notches of the hand-polished wood plate to give the scenery a nice depth effect and an attractive play between light and shadow. The highlight: The figures can be stored on the bottom of the solid wood plate and are held in place by magnetic pads. Every piece has its place and nothing gets lost. Now you can use the wood plate to display cards or other items.
The silhouettes come in 3 sizes: small, medium, and large. Click here to watch a short video on these unique and beautiful silhouettes.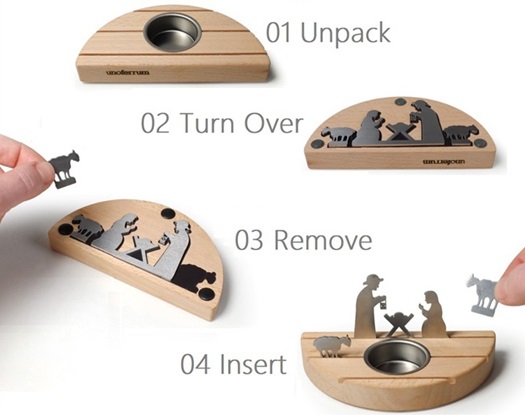 Click on each image for more information.
Wood base: 150 x 75 x 20mm (5.9 x 2.9 x 0.78 inches)
Weight: 0.25kg (0.5 lb.)
Wood base: 300 x 150 x 20mm (11.8 x 5.9 x 0.78 inches)
Weight: 0.75kg (1.6 lb.)
Wood base: 450 x 225 x 20mm (17.7 x 8.8 x 0.78 inches)
Weight: 2kg (4.4 lb.)